OCTOBER 2016
SEPTEMBER 2016
Ciro,
JUNE 2016
MAY 2016
MAY 2016
MAY 2016
Hi Ciro,
MARCH 2016
We recently visited the island of Sicily touring Palermo, SerraDiFalco and Cefalu. We took a day tour to SerraDiFalco and Cefalu which was enhanced because of our tour guide Ciro . He showed us many highlights of the area in both towns.
MARCH 2016
JANUARY 2016
OCTOBER 2015
SEPTEMBER 2015
JULY 2015
JUNE 2015
MAY/JUNE 2015
MAY 2015
APRIL 2015
MARCH 2015
Joseph Conti
Morganville NJ
DECEMBER 2014
OCTOBER 2014
OCTOBER 2014
September 2014
Joe Sciara, Washington DC
September 2014
July 2014
July 2014
June 2014
June 2014
March 2014
Thank you for taking such good care of us and for introducing us to your beautiful country.We will never forget our visit and the incredible Greek temples,theatres,coast lines and of course the food.
We wish all the best for you and your family.
Jill & Stu Tane
Susan& Chris Lockwood
March 2014
---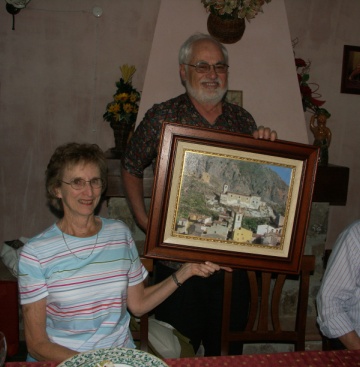 ---
Dear Ciro and Giovanni,
Am sending this short note to both of you as I never would have found Ciro without Giovanni's help.
I'm sorry I never got to meet you in person, Giovanni, but perhaps we can do so on my next trip (whenever that is). However, I do want to thank you for suggesting Ciro to be my guide to Campobello.I had a wonderful time – the best day of my entire 15 day trip! And to think I debated spending time with someone I didn't know – what a waste of time that was. Ciro, you put me at ease within the first 10 minutes and I felt like I was leaving a friend behind, when you dropped me off at the hotel that evening! I could not have asked for anyone or anything better!Thank you both for taking such excellent care of me! How wonderful it is to have two such great friends as you!
Linda Terranova Adams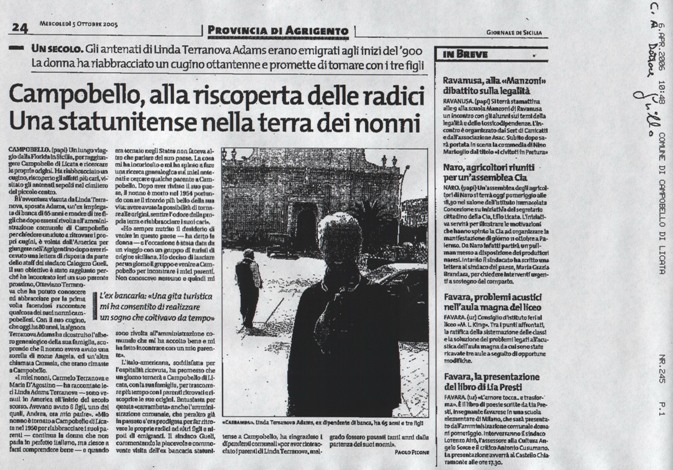 ---
---
---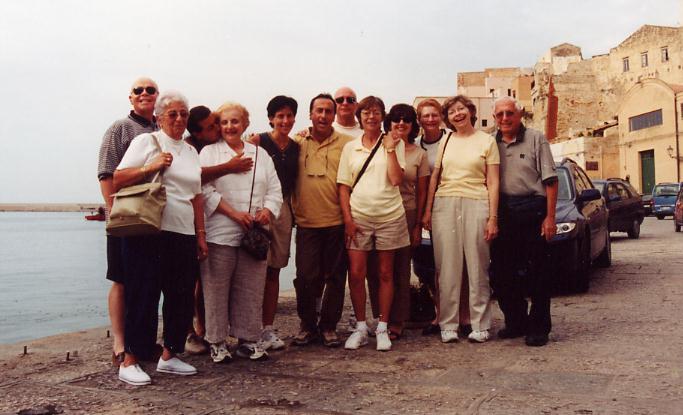 ---
---
---
---
---
---
---
Thank you so much, you made our visit to Sicily so wonderful and easy. We saw everything we planned on and more. Thank you for the explanations for our endless questions about everything Sicilian. Thank you most of all for making our vacation safe and helping us discover our Sicilian heritage. Ciao
June 2011 Carla Biondillo Millorn
---
Anthony &Stacie Totta
Thanks again for everything. Sicily was beautiful and your tours were awesome! We will definitely suggest you to our family and friends. Let us know when you come to Kansas City.
August 2011
---
---
---
---
---
---
---
group BARON Oct.2011
Ciao Ciro,
We enjoyed our Sicilian vacation very much and appreciated your expertise in guiding us. Each place we visited had its own unique charm. Nunzia and Lydia added to the experience, as each was knowledgeable in her area. Although everyplace was great, Joe and I especially enjoyed Mondello Beach, Erice and the Prickly Pear Festival in Roccapalumba. I was sorry to not have sampled the available food at the stands. Seeing the fox on the road after experiencing Mt. Etna will always be a memory. Overall, the food, drink and atmosphere throughout our stay was enjoyable, however there was too much food and too high a price at the restaurant in Trapani. We would have preferred to order the sample menu.
We would highly recommend you as a tour guide in Sicily!
Grazie mille!
Ciao, Linda