Am sending this short note to both of you as I never would have found Ciro without Giovanni?s help.
I?m sorry I never got to meet you in person, Giovanni, but perhaps we can do so on my next trip (whenever that is). However, I do want to thank you for suggesting Ciro to be my guide to Campobello.I had a wonderful time - the best day of my entire 15 day trip! And to think I debated spending time with someone I didn?t know - what a waste of time that was. Ciro, you put me at ease within the first 10 minutes and I felt like I was leaving a friend behind, when you dropped me off at the hotel that evening! I could not have asked for anyone or anything better!Thank you both for taking such excellent care of me! How wonderful it is to have two such great friends as you!
Ciro - Ray and I want to thank you for the wonderful Scilian trip. We fell in love with the country and can? wait to come back. You really made our trip enjoyable, and carefree. Your help in locating our ancestral towns and people was the highlight of our trip and means so much to us.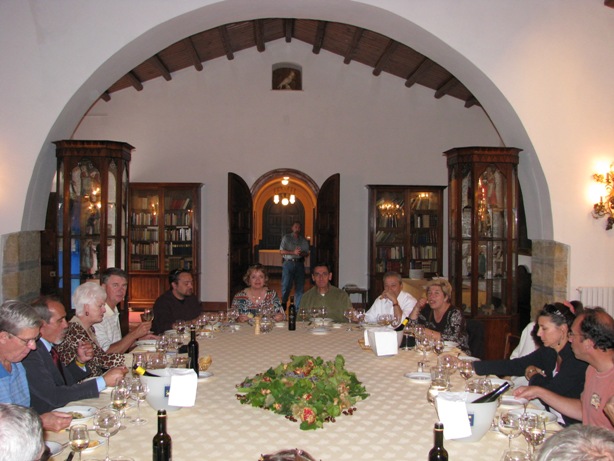 Please use us as a reference with any of your future clients. Look forward to seeing you again.
Mr & Mrs Ray Cotitta
---
Ciao Ciro:
This is a late but nonetheless very grateful ?thank you? from Rosemarie and I for the terrific time we had in our new Country!! You were the perfect guide: a wonderful sense of humor and a very patient man, with four people who have many interests, questions and perhaps even relatives in Sicily. Surely our brother, Dr. Richard assured some very good friends and found much info for us to pursue even further. We still are amazed tat there are no Scibettas in Cala ... land! And is it Arab or Jew or Savoy or Norman or Roman?? I have shown the posters to many of my friends here in Vermont and told them of the many and varied experiences we had with our famous guide in control.
Also you should know that the flag of Sicilia hangs proudly on our home, perhaps waving to our ancestors and to our new found friends abroad.
I know that your family sacrificed by not having you there very often while you were guiding us, but please tell your son and your wife that you made four crazy Americans very happy and much better informed ... not to mention confused about our past.
Incidentally, the Hotel you selected was excellent: a nice ?step up? from our Hotel in Taormina.
We will continue our quest for our ancestry and see what we can discover, with your help.
Thank you again Ciro, for your professional and pleasant services to the Scibettas.
The other ... Mr. Lou Scibetta
---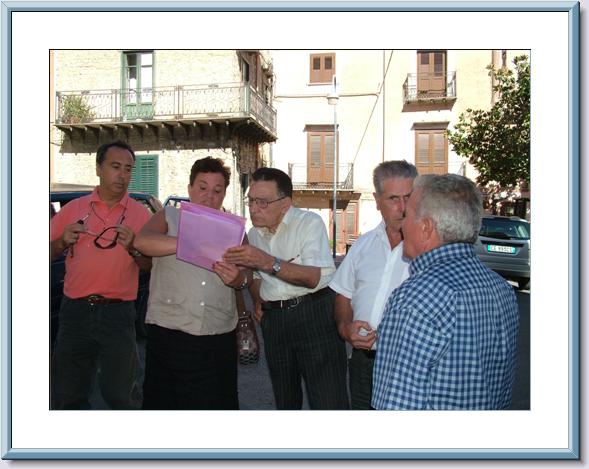 I want to take this opportunity to thank Ciro Grillo for the help and guidance he provided to me on my trip to Palermo. Part of my trip was to visit the town of Marineo where my grandparents were born and so see if there were any relatives still in the town.
Ciro accompanied me there and made inquires which resulted in locating some cousins. We met and had lunch and have kept in touch by email.
It was a wonderful experience and I would highly recommend him
Rita Morgan
---
Ciao Ciro,
I want to thank you for the tour we had with you in September to Mt. Etna and Taormina. We really enjoyed ourselves. Also, we had a good time on our 2nd tour to Monreale and Agrigento with Rosario and Gino. They were both extremely nice. We will definitely contact you again when we go back to Sicily.
Sandra Clark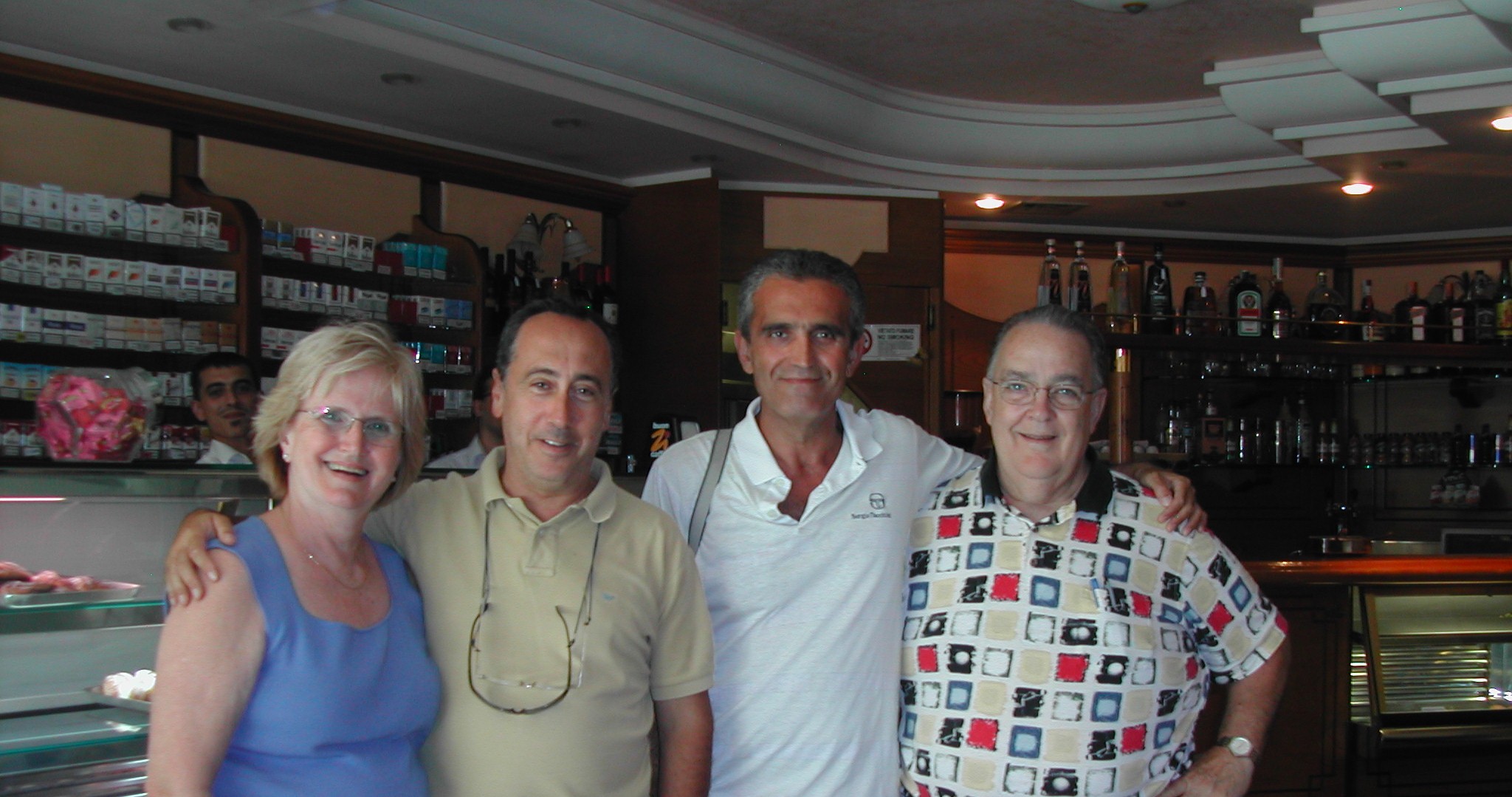 We truly appreciate all you did to make our trip to Sicily so wonderful. You were very patient with our slow walking. Those tortureous paths nearly killed us!
We are looking forward to another trip with you. Pray it happens.
Ciao, James and Valerie Mullally
---
Ciro, we have finally had a chance to settle down after returning from Sicily. We have been showing our pictures to everyone. In November, we will be going to Fredonia, New York to visit my dad and my brother. They are anxious to hear all about our trip. Nora and I still have trouble sleeping at night, because we keep dreaming about all the sights we saw and the food we ate.
The highlight of the trip, as far as I am concerned, was the stay in Valledolmo at Celso and the side trip to Mussomeli. I was moved by being able to walk on the ancient cobblestone streets and visit the churches of my grandparents. Also, it was special because we were able to look up the church records of my grandfather and great-grandfather.
We could not have done what we did without your guidance. Having you as a tour guide and interpreter was the smartest thing we did. As for the sights, we enjoyed the town of Taormina and the wonderful restaurants there, the ancient town of Cefalu and, of course, Palermo. We also enjoyed the rides through the countryside going to all the wonderful places, especially our ride up to Mt Etna.
It was interesting to talk to you about the old customs and foods that my grandparents talked about and fixed, and to discover you had a similar background and stories. I felt guilty that I couldn?t speak Italian, but lucky that you were able to be an interpreter for our trip.
Ciro, if you would like to use Nora and I as a reference, we would be glad to recommend you. We truly had a great time.

Vincent and Nora Leone
214-726-0996
If you always do what you always did,
You always get what you always got.
---
Hello To All My Friends, Relatives, and Business Colleagues:
I would like to introduce each of you to a friend of mine in Sicily who conducts wonderful tours of the island. Ciro Grillo resides in Palermo. His attachments above tell you about his tour services for Americans. Would each of you kindly review Ciro?s two attachments. And please feel free to write directly to him. On our last trip to Sicily in September, we spent time with Ciro at two magnificent agriturismos ( Celso) ? Heaven on Earth. These farms were converted and magnificently designed for bed and breakfast facilities. Ciro can organize your trip. They are absolutely wonderful. Ciro speaks fluent English, so please write to him in English.
Travel to Sicily is extremely inexpensive. The accommodations are outstanding and very affordable. Don?t hesitate to plan your next vacation through Ciro Grillo.
And please, would you forward this email to all of your friends, relatives, and business colleagues.
Best wishes to all.
Donna Dickinson
---
About Ciro Grillo ? By: Ronald Kurtz ?
I first met Ciro for dinner on Oct 19, 2006 in Taormina, Sicily in preparation for meeting a friends relatives in Termini Imerese and the following day my own relatives in Rometta. Ciro was hired for his driving and translation skills. He was referred by Giovanni Montanti.
Ciro took us to a very nice restaurant in Taormine, helped select the wine and suggested menu items. The meal was wonderful. He then repeated the dinner sinerio the following evening at an even nicer restaurant again in Taormina.
Having been contacted by Ciro prior to arrival our relatives were ready for us and had offered a lunch. The visit began with introductions and review of ancestry/decendent relationships. A walking tour of the neighborhood followed, with Ciro translating as necessary, then a meeting of the family members at the residence and a bountiful lunch.
In a very short time Ciro blended in with the people as though he was a family member or long time friend. Ciro must have enjoyed the encounter as much as we did. In all it was a joyous and wonderful time.
In summary do not hesitate to hire Ciro Grillo for your touring or visiting needs while in Sicily. For more information contact me at snook4@verizon.net
---
Dear Ciro,
I just wanted to say thank you again for helping us reconnect to our heritage this summer. What a thrill it was to find Felicia and her family and review our common history. We returned to Lecara after staying in Taormina for few days. What a reception we received on the second visit. We sat in her Living Room and talked about my parent?s earlier life up until they immigrated to the US. I got a chance to ask most of the questions that I had about past family events. Felicia was truly amazing she had an excellent memory. She was very proud and had a lot of practical wisdom which impressed me a lot. My parents were a lot like that.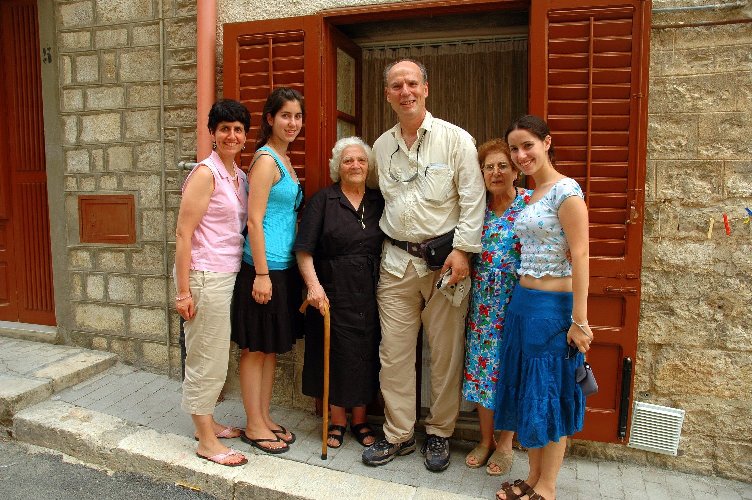 Ciro you helped make this an incredible experience for us in Lecara. Visiting the church where my parents were baptized and married, the cemetery where my grandparents are buried, the town that my family came from and Via Ortiegia has reminded me of the importance of things other than money. For this I thank you. What a life altering experience!
Best regards to you and your family.
Anthony, Patricia, Marcella and Gabriella Chibbaro
---
When my husband and I decided to travel to Sicily and to research family roots, a close friend, who had used Ciro Grillo as a guide, highly recommended him to us. This was our fifth trip to Italy, but our first time using a guide.
Ciro advised us what all our costs would be prior to leaving on our trip. He helped us choose all our hotels in Sicily, Amalfi, and Rome and made all our reservations. Our accommodations were excellent.
Ciro picked us up at our hotels in Sicily every morning and planned each day, however, he was flexible to whatever we wanted to do. He suggested and made reservations to various restaurants, and transported us to and from each of them every night. One afternoon, he took us to the best place in Palermo to eat panelles and gelato! He drove us to Agrigento and Taormina, stayed overnight to drive us to the interesting sites in both those cities and explained their history.
Knowing of my determination to research my family roots in Palermo and Trapani, Ciro put me in contact with Giovanni Montanti, a genealogist, who was very helpful. Ciro drove us to various churches in the Monte Pellegrino area of Palermo. He introduced us to church pastors and advised them of my desire to seek records of my ancestors. As I am not fluent in Italian, this was an invaluable asset to me.
We found Ciro to be a very a kind, helpful man who aimed to make our vacation in Sicily one that we will always remember and cherish. His attendance to us was beyond what we expected in a guide and we highly recommend him.
Prudence Cutillo
Naples, Florida
---
Ciro,
Dorothy and I want to thank you for your services in Sicily. Pasquale got us to the airport in Palermo in plenty of time - he?s a very nice man. I plan to talk to our travel agent about the trip and will certainly recommend you to anyone who needs a driver. Of course, you helped us in many ways, not just the driving! Maybe we will see each other again in the next couple of years.
Sincerely,
Frank and Dorothy Strada
Overland Park, Kansas
---
Hello Ciro,
Thank you for taking us to all of the beautiful places in Sicily. We really enjoyed it and it was a pleasure having someone who knows the area well to show us. The cannoli was the best we have ever had! We are talking about it to everyone here.
When my mother gives me the address of her house in Marineo, I will e-mail you so I could get a picture.
Ciao,
Salvatore Gelardi
---
Dear Ciro,
I wanted to take a moment to truly thank you for your services while in Sicily. Having traveled to visit relatives never before met, I cannot tell you what it meant to my family to have you there with us. From the time you picked us up at our hotel, we knew we were in good hands.
Your service as translator for us made our trip to Sicily the highlight of our lives. You were the bridge that allowed my family and my family that lives in Sicily to communicate! You were the vehicle that allowed a separated family to be rejoined. You never missed a beat in handling the the many conversations that were all happening at once. I was amazed at your skill in juggling the constant messages you delivered both in English and Italian. I take my hat off to you sir!
I hope that you share my contact information with anyone who may be interested in your service. I would be most pleased to let them know that they are engaging the services of a class act.
Kindest regards,
Russ F. Guzzo
Director
UNICOM Systems, Inc.
818-838-0606
rguzzo@unicomsi.com
---
Hi Ciro, its Jim Carollo. Sorry I haven't gotten back to you sooner. It's really been crazy since we've been back. You made our trip so special. The two days we spent with you were remarkable. We can't believe there are one million people in Palermo and we strike gold having you as our guide. We feel so fortunate meeting you in helping us find my relatives in Palermo. We couldn't have done it without you. This trip was our best ever. Thanks to you for giving us directions and following up with everything I requested. My family in the states can believe we found our cousins. We have had conversations with some of my cousins in Ohio. They are planning a trip to Sicily this spring or summer. It would be great if you could help them locate our family for them. I will let you know as soon as they have made their arrangements. Donna for sure has a tennis friend who is going to Sicily this year. She gave her your number and e-mail address. I spoke to Al D'Amico and his wife JoAnne. They said to say Hi back and to thank you for all your help. The videos are exceptional. I will be making copies to send to all of our family members. Donna and I will be heading back to Europe sometimes in October of 2007. I don't know where yet but we got the travel bug.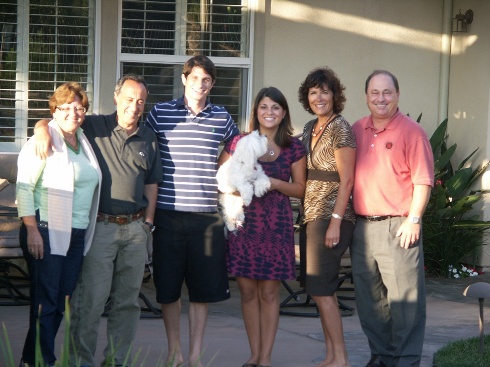 Ciro, we wish you a great year in 2007. We hope you and your family are doing great so far. If you ever come to California especially Southern California. You and your family are welcome to stay at our home in San Clemente CA. I will pick you up at the airport and show you a great time. The invitation will always be here for you and your family. Keep in touch, have a wonderful year.
Yours truly Jim Carollo
---
hi ciro,
we are back from our trip to italy and spain and are glad to be home safely.
We would like to thank you for the wonderful tour you provided us in palermo. it made viewing the city such a pleasure, since you had to deal with all the crazy drivers. (ha!ha!) you were so pleasant and helpful and we will recommend you to anyone we know who is going to sicily.I have copied my friend rina benton who owns amorosi travel in california and who set us up on our trip to europe. i know you and rina can work wonderfully together for future clients. she is also of italian descent as you can see from the name of her business. she, like you, is very efficient and very knowledgable about travel. Please feel free to contact her if necessary and she will do the same.
thanks again for a great time in palermo!!!
sincerely,
lorraine and ron darienzo
p.s. if you ever get to southern california, please don?t forget to contact us.
---
Dear Ciro,
My husband and I cannot begin to thank you enough for the wonderful day you showed us in Cinisi. Everything was so much more than I had ever expected it to be.
My hope was that I would be able to leave Cinisi having seen everything I could possibly see to understand where my family had come from.
You and the twogentlemen your friend sent made all that possible. The memories I will havefrom that day will always be with me. And for that, I thank you. The rest of our trip was beautiful.
We are defintitely planning to come back to Italy again in the near future!If you could, would you please pass this email on to your friend who made the arrangements for the cemetery to be open and for the two gentlemen he sent toshow us around?
I would like him to know how grateful I am for all that he hasdone to make my Cinisi day a truly memorable one.
Once again, thank you for everything and I will definitetly give your name toanyone looking for a tour guide in Sicily. If you have any brochures on yourservices, please feel free to email or mail them to me and I will pass yourinformation on to whoever is looking for a tour guide.
Ciao,
Elbert H. Goodier & Catherine S. Goodier
---
Ciro.
Thank you so much for making our trip to Sicilia so enjoyable. We never expected all you did for us. From the time we arrived in Palermo, we felt we were with friends who helped us find our families, who brought us to the greatest restaurants and taught us so much about the people and land of our Grandparents. We saw so many things that would not have been possible without your help. Rosario, Francesca and Carlo were wonderful. We had many laughs together. I think about our trip often and all the pleasant times we had that would not have been possible without your help.
Whenever anyone asked me about my trip the conversation always goes to you and your staff and how awed I was at everything you did . I don?t know where you get the energy.
Tell everyone hello and Rosario I will be writing soon.
Thank you and God bless.
Jim and Sue Greco
---
Thank you so much for your assistance. We absolutely loved the Hotel Vello D?Oro in Taormina !! and also the Hotel Bouganville in San Vito lo Capo. They were perfect.
Thank you again. We had a wonderful time in beautiful Sicily and will cherish our memories!! Hello to Giovanni Montanti for us!!
ann marie mcintire 612.455.5187 asset manager
PPL Helping people help themselves
project for pride in living 1035 East Franklin Av. Minneapolis MN 55404
---
Hello Ciro,
My wife and I had a wonderful time and as always you did a magnificent job. The mass in Alia and the mass in Aragona were very emotional for us.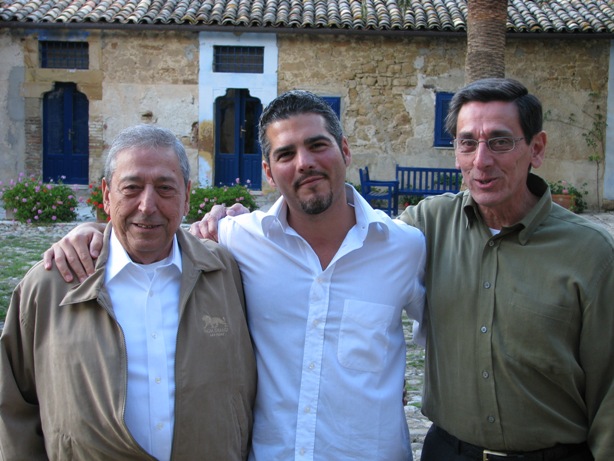 Thank you. We are so sorry you became ill. We both were sick the last two days in Taormina. I?m sure we will meet again and until then??Ciao
Ray and Charlie Cotitta
Anthony and Margaret Piazza
---
Dear Ciro:
Sorry for the delay. Since my return, I have been involved in a number of family matters including a separate cocktail reception for my daughter, Maggie. The following can be added to your web site of my fine experience with you and your associates while traveling in Sicily.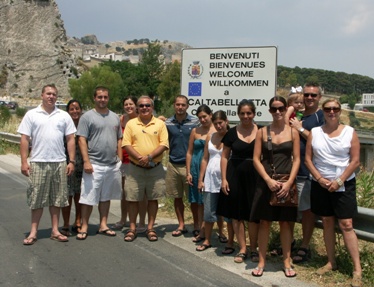 ?My daughter, Maggie, was married in the Amalfi Coast on June 19, 2008. Afterwards members of my immediate family, including thirteen (13) adults and two (2) infants traveled throughout Sicily with the assistance of Ciro and his associates. Ciro?s expertise in arranging transportation, lodging and itinerary was outstanding. Because of the various interests of the numerous travelers, Ciro and his associates were very accommodating in changing and refining our itinerary and assisting in our travels throughout Sicily. My family was able to move about in a large bus to accommodate the ?Gruppo Piazza? from one end of Sicily to another. Ciro?s choice of cities to visit, accommodations and itineraries gave us all a good sample of ?Sicilia?. We would recommend Ciro Grillo and his organization highly and we hope to visit Sicily soon.?
Very Truly Yours,
Tony Piazza and Family
AJP/taw
---
Dear Ciro,
We can?t thank you enough for your outstanding service provided to our family in both visiting our family towns and villages and in simply enjoying Sicilia Bella!
Your assistance in making the hotel and tour arrangements, your excellent driving through the mountainous and remote terrain, your knowledge of so many areas of Sicily and?of course, the ongoing translations to better understand the experience?all combined to make our visit the best holiday ever.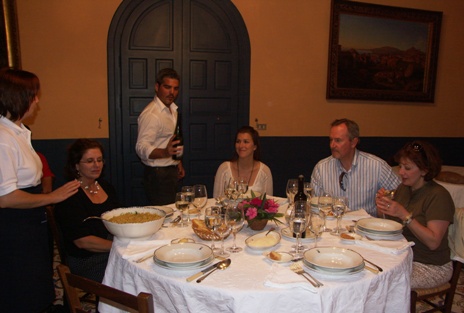 Your easy-going manner and ability to be flexible based on our needs was very helpful as we were able to continually make new decisions about our journey. That was what makes the difference between a group excursion where everything is pre-determined with no interest to your own needs and preferences and the personalized approach you gave us.
Your 24-7 attention was the best ever.
We can?t wait to return to our homeland!
All the best, Lou & Pat Myers and family
---
Ciro,
Thank you so very much for making our short trip to Sicily a fantastic one. All of your help is very much appreciated. The places we went to were so interesting, and the meeting with Rosario and Giovanni were special. Getting to go to the church Andreas was baptized in was very emotional for me, and I hope made lasting memories for Timothy (grandson) and Walter.
I have not downloaded my pictures yet, but will send you some of those we took with you when we do. Had some computer problems when I got home. We are slowly adjusting to be back home and back to normal after such a lovely trip. Leonard, Marge, Walter, Kristi, and Timothy
Leonard J. McCown, Irving, Texas ?
McCown Family History
leonard@mccown.org ? http://www.mccown.org
People will not look forward to posterity who never look backward to
their ancestors. ? Edmund Burke, 1790
---
Hope all is well.
Just returned from our vacation cruising Italy and Sicily.
WOW!
Yours and Jim?s recommendation of Ciro was GREAT!
Ciro was everything and more what we had hoped. He assisted us in locating some family members, visited all the important and wonderful spots, had a great time.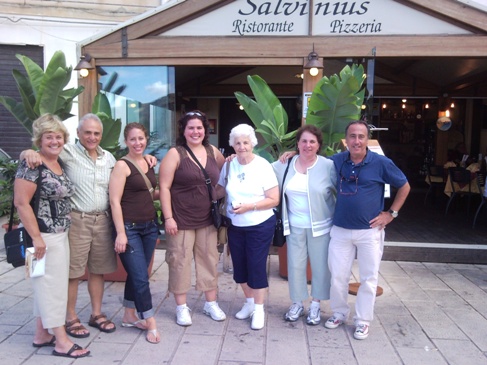 Will definitely use again on our next journey to Sicily and recommend to others.
Al, again thanks for the recommendation.
When you get some time ?let?s break bread.?
Ciao,
Rich Scandaliato (Rich@RomerosFood.com)
---
Thanks for your recent message on Facebook.
Rome, Firenze and Pisa were also delightful. However, our time with you and in Sicily was definitely the sweetest and highlight of our trip.
I want to thank Giovanni Montanti for introducing you to me. It was an extreme good pleasure to make your acquaintance and benefit from the services you provided me and my family during our recent vacation in Sicily. We really appreciate you being our guide and being so thoughtful about managing so many little details of trip, even some we forgot about you reminded us. It was such good excellent care that you provided. We felt that you treated us as a good family member. We appreciate that you really made sure that we made the best use of our time in Sicily and that gave us a reasonable and good price for everything you provided. It was not an easy task to guide us (with the help of your associate Rosario, too) to three corners of Sicily in only six days over the Christmas 2009 holiday! Yet we managed, with your guidance to see beautiful sights in the Sicilian cities of Palermo, Mondello, Cefalu, Grotte, Agrigento, Taormina, go to the top of Mt. Etna, visit Erice, and see the Christmas nativity play in Costanuci. Our only day of rest was on Christmas Day and even on this day, you managed to come to our hotel and deliver my favorite desert, cannoli. Wow! Thanks for making Sicily feel like home and making sure we got on our ferry to Naples on time. We were especially impressed that you guided us to the right office in my grandparents? hometown of Grotte and helped us obtain their birth certificates and copy of their marriage certificate. We are definitely going to recommend you to our friends and family members and we look forward to visiting Sicily in the summer next time. No one treated us better in Italy than you did. So, thank you, again.
Next time you make it to San Francisco, please let us know, we would love to invite you to our home.
Take care and best wishes to you and family and Giovanni and Rosario for all through 2010.
Sincerely,
Giovanni Vassallo
and Tsering & Tenzin Vassallo
---
June 2010

Hello Ciro, http://mymannina.blogspot.com/

I hope you had a good time in Chicago. If it was ha;f as good as our trip to Sicily, then it was something special. You were a terrific guide and I hope we can also call you a friend. You made us feel like we were part of the Mannina family and the Ventimiglia community.

We ate a lot of good meals during out 10 days in Italy, but we are still talking about lunch on Lina?s terrace. That was superb. If you could give me her address, we would like to send her our personal thanks. We also appreciated meeting Lydia and very much enjoyed our dinner with both of you in Palermo.

I have posted notes about our trip on your Sicily Facebook page and in the Ventimiglia mailing list where I found Linda Terra-Nova. I will also recommend you to me cousins and other Manninas and Tantillos when I see them in Chicago on July 17.

I will attach a couple of photos to this message and I would be happy to send more, by email or on a CD, if you want them. You can see more photos along with notes about our trip at this blog: mymannina.blogspot.com. And, since you are part of the extended family, I would like to invite you and any Manninas, Portuesis or Grillos to join us at ManTanCan.com, a networking website that I created for Manning, Tantillo and Cantrell family members.

I wrote to Caterina and to Mayor Mannina to thank them for their hospitality. I would also like to thank Mama Rosa, Giovanni Mannina and the parents of baby Michele if you or Caterina could tell me how to contact them.

Thanks again for making our trip one that we will always cherish.

(I will run this letter through Google?s translation service. If it does a good job, maybe you could try it if you write back to me.)

Ric & Jeannene Manning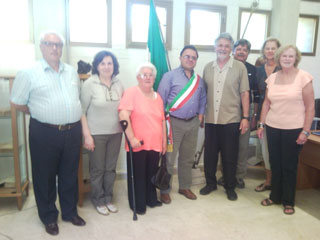 ---
Letter of Recommendation for Ciro Grillo
My family hired Ciro as a guide for a 5-day period in April, 2010. He showed us around Sicily, which was my mother-in-law?s ancestral home. Our family lives in Kansas City.
Ciro had an itinerary for each day, but was very open to changing our plans, which we in fact did more than once. He was an excellent guide and driver. His selections of places to visit were just right, including some excursions off the beaten path, including a beautiful winery and another restaurant in the Sicilian countryside. His recommendations were always reliable, including hotel recommendations.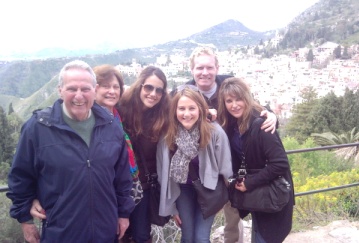 He was helpful in tracking down my mother-in-law?s ancestors, and making arrangements for us to visit as long as we liked. He never minded starting early or staying late ? he was always available.
Sicily itself is easily as enjoyable a place to visit as the rest of Italy. The countryside is even more beautiful. And the people extremely hospitable.
Ciro was always willing to go the extra mile. He repeatedly provided help on personal matters that really were above and beyond the scope of a guide and was a key part in making the trip a success. (I really don?t want to contemplate how the trip would have gone without him!)
Ciro speaks excellent English, is unfailingly charming, trustworthy, punctual, courteous, and generous. I have nothing but favorable things to say about him. He will help make your trip a memorable one and undoubtedly will become a friend as he did with us.
Eric and Cindy Swanson (maiden name Caresio)
---
Ciao Ciro..
Here's a "Testimonial" we hope works for you for your web-page.. if you want additional areas addressed..please let me know..

We were fortunate to utilize Ciro Grillo's services on two occasions -2005 (my husband,our adult daughter, and me) and in 2010 (my husband and me). Ciro is very fluent in English, friendly,
dependable and knowledgeable. His rates are reasonable and we relied on Ciro to establish
our itinerary and recommend accommodations. We were very pleased with the results and
enjoyed the sights in Palermo, Erice, Segesta,Trapani, Cefalu`, Agrigento, Mt. Etna and Taormina.
Ciro assisted nightly, making dinner arrangements in some great local restaurants, thus alleviating any language barrier.

Ciro is very adept and accommodating in searching family roots. We appreciated his zeal whether visiting small towns, church records or cemeteries.

After two tours, we consider Ciro as a friend. We would highly recommend him to anyone who
would want to have a wonderful, memorable visit to beautiful Sicily.
Tom, Becky and Kristi Swartz

(I can also be a reference via email rcswartz2@verizon.net)


ciao..Becky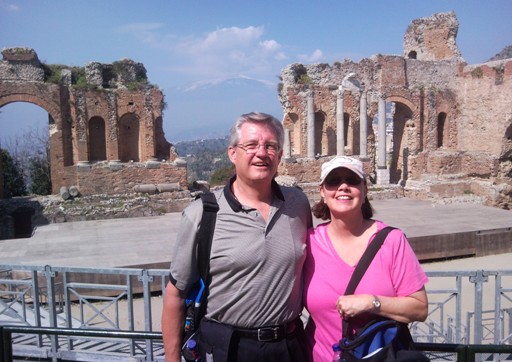 ---
April 2011
?We all had such an amazing time in Sicily. Whatever we had anticipated far exceeded our expectations, but I think it was the unexpected things that will make our visit most memorable. Thank you again for being such a great guide, translator, and friend. You introduced us to sights and experiences that we never would have found on our own.
The reunion with my wife?s family, the night in Palermo, all of our excursions, and the fabulous dinners contributed so much to the magic of our week. As I told you in Palermo, my wife and I take pride in being independent travellers, but we are so grateful that we made use of your services and look forward to seeing you on our next trip to Sicily.? Jay Hochheiser
---
Dear Ciro,
You made my dream trip come true.Your knowledge ,willingness to explore and professionalism far exceded my expectations.
On Thu, May 5, 2011 Sandra J.Brex
https://www.facebook.com/media/set/?set=a.2020764481548.122869.1317022899&type=3&l=911556d1f8
---
Ciro took me on a trip to the birthplace of my Great-Grandfather who immigrated to America in 1901. I saw the mountain-top village of Tusa and, with Ciro's translation skills, was able to talk to some of the locals (who were very friendly!). We had a huge lunch at a local restaurant where I tried some delicious Sicilian specialties. We stopped in Cefalu on the way back to Palermo were I photographed the beautiful cathedral and wandered the medieval streets. Ciro was an amazing guide and knows everything about Sicily. I highly recommend his services. Thanks Ciro!!
May 2011 , Chad Ferrigno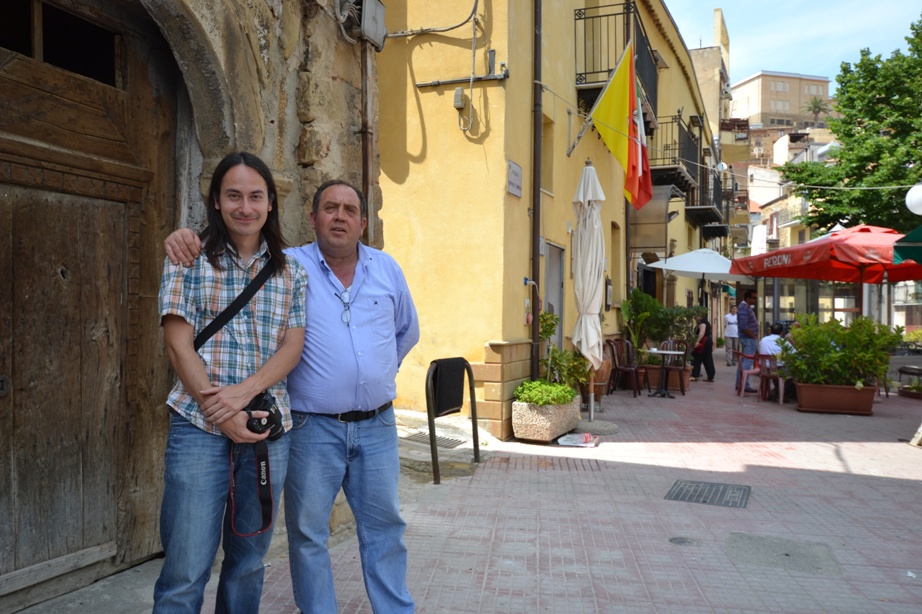 https://www.facebook.com/media/set/?set=a.2089349916141.126441.1317022899&type=3&l=e4b544acb9
Thank you so much, you made our visit to Sicily so wonderful and easy. We saw everything we planned on and more. Thank you for the explanations for our endless questions about everything Sicilian. Thank you most of all for making our vacation safe and helping us discover our Sicilian heritage. Ciao
Thanks again for everything. Sicily was beautiful and your tours were awesome! We will definitely suggest you to our family and friends. Let us know when you come to Kansas City.
August 2011
We enjoyed our Sicilian vacation very much and appreciated your expertise in guiding us. Each place we visited had its own unique charm. Nunzia and Lydia added to the experience, as each was knowledgeable in her area. Although everyplace was great, Joe and I especially enjoyed Mondello Beach, Erice and the Prickly Pear Festival in Roccapalumba. I was sorry to not have sampled the available food at the stands. Seeing the fox on the road after experiencing Mt. Etna will always be a memory. Overall, the food, drink and atmosphere throughout our stay was enjoyable, however there was too much food and too high a price at the restaurant in Trapani. We would have preferred to order the sample menu.